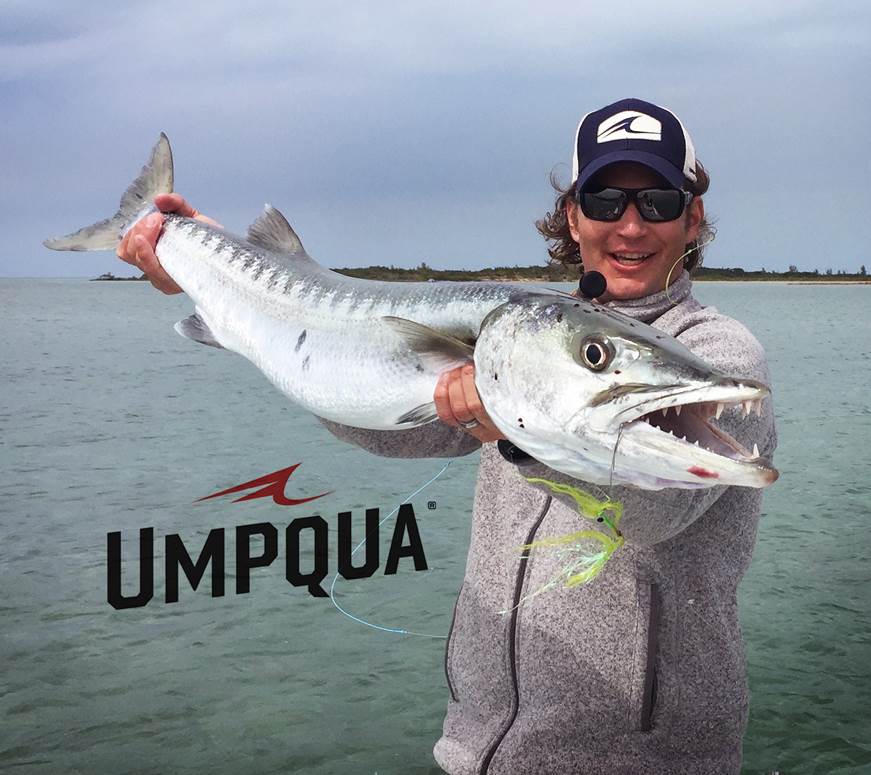 05/26/2016
FOR IMMEDIATE RELEASE:
Summary:
Drew Chicone, Author, Educator, Saltwater Fly Designer and creator of www.saltyflytying.com has joined Umpqua Feather Merchants Signature Fly Designer Team.
MEDIA CONTACT:
Luke Wennik
Umpqua Feather Merchants
594 S. Arthur Ave.
Louisville, CO 80027
[email protected]
303-567-6696 ext. 102

"Umpqua has a long history of partnering with pioneer signature fly designers in both fresh and saltwater and we are excited to continue that tradition by welcoming Drew Chicone to our Sigature Fly Designer program. Said Brent Baurer, of Umpqua Feather Merchants, a world wide distributor of premium flies, materials and equipment. "Drew has dedicated much of his life to the development of the most effective saltwater fly patterns and taken his work a step further by educating fly-fishermen on how to tie and fish his patterns more effectively. We look forward to making his body of work available to retail fly shops and fishermen across the world." Brent Bauer, Director of Product
ABOUT DREW CHICONE
Drew Chicone is an author, award-winning outdoor writer, fly designer, photographer, lecturer, and materials expert, whose passion for teaching the art of fly tying has inspired numerous how-to articles and detailed instructional guides. He has lived and breathed the sport since he was tall enough to sit at the vise, and his fly creations are well known and in high demand among saltwater guides across the globe.
Drew has been a FFF Certified Casting Instructor, and commercial fly tier for many years. His patterns are sold in quality fly shops and have appeared in US and international publications such as: Fly Tyer Magazine, Fly Fisherman Magazine, The Drake, Fly Fishing in Saltwaters Magazine, The Western Australian Fishing Magazine, & Vagabond Magazine South Africa to name a few.
In 2012, Drew partnered with Stackpole books to publish his fifth book; "Feather Brain – Developing, Testing & Improving Saltwater Fly Patterns." Other Chicone titles include; "Redfish Flies", "Snook Flies", "Essential Bonefish Flies – Andros", and "Essential Permit Patterns".
He is the winner of the 2014 IFTD Iron Fly, MC and Judge of the 2015 Iron Fly and the creator of Salty Fly Tying and Strip Strike University (www.stripstrikeuniversity.com). Drew is a contributing writer for Patagonia, a member of the Outdoor Writers Association of America, and a member of numerous pro teams including Dyna-King, Nautilus, Hardy Whiting Farms, Daiichi, Mustad and Loon.
Drew is a popular speaker and frequently hosts destination schools/fishing adventures anywhere saltwater species can be found. For more info on Drew, his latest works and schools, visit his blog at blog.saltyflyting.com. For product reviews, tip, tricks and more, feel free to subscribe to the Monthly Newsletter "The Salty Fly Tying Chronicle" or join Salty Fly Tying on Facebook, Twitter, Pinterest, or Instagram.
ABOUT UMPQUA FEATHER MERCHANTS
Since being founded in Glide, Oregon by the late Dennis Black in 1972, Umpqua has been an innovator in the fly-fishing industry. In creating the first-ever Royalty Signature Fly Tyer Program, Umpqua altered the course of the industry by making flies more readily available and affordable to anglers everywhere, while at the same time enabling designers to receive recognition and compensation for their creativity. Today, Umpqua has nearly 200 Signature Fly Designers and has introduced hundreds of revolutionary, game changing fly patterns throughout the years. Umpqua's innovations extend far beyond just flies, and include award-winning fly boxes, packs and vests; industry unique, ultra-effective leader tapers; and a comprehensive assortment of high quality streamside accessories, hooks, fly-tying tying materials, tools and more.
Umpqua's headquarters are located in Louisville, Colorado.
www.umpqua.com